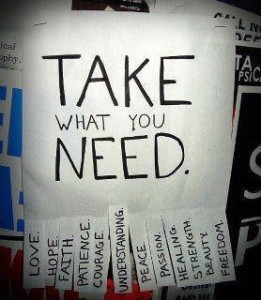 A few years ago, I had the opportunity to visit sunny, palm-treed southern California, where it kisses the blue, blue of the Pacific Ocean. It is a beautiful part of the world. The purpose of my visit was to present my new work Making Peace with Suicide at The 2012 Compassionate Friends (TCF) annual national and international conference.
The Compassionate Friends is a self-help group for parents who have lost a child at any age; they, also, offer support to grieving grandparents and siblings. Illness, murder, addiction, suicide, manslaughter, drunk drivers, freak accidents, still-born deaths — you name it — these folks have walked through that fire. It is unimaginably heartbreaking. And, yet, they gather and laugh and cry and help one another breathe again.
The hotel was entirely filled with conference attendees and the hotel next door held all of the over flow. I heard there were anywhere from 1300-1800 attendees. They came as families, individuals, couples, and friends.
Even though I have experienced grief first-hand, I have not lost a child, and, so, I felt a bit like a stranger in a strange land. This was new terrain.
While in the elevator, a lovely woman named Kathy made eye contact and we began a conversation as we exited the elevator and headed to one of the sessions. Kathy told me that since the death of her son, she has lost all of her friends and that is why she came to TCF conference.
Initially, I was shocked and horrified, but as I talked to other parents they told me similar stories. It's not that people are bad, they would all say. They just don't know how to handle the weight of the grief. They don't know what to say, how to say it, or they nervously make inappropriate or inane comments.
For example, one father told me that as he walked out of his son's memorial service and settled into his car, his brother-in-law talked non-stop about his own son and his current career concerns. The bereft dad looked at his unaware brother-in-law and responded, "At least, you have a son."
The parents acknowledged that many of their friends and loved ones were uncomfortable talking about death. Some told me that they felt it was too much of a burden for many of their friends. And, still, many of these parents want to talk about their sons and daughters; they never tire of the subject and the conversation keeps them alive in their hearts. These parents have come to recognize the squirm in others who do not know how to respond.
The Compassionate Friends has local chapters world-wide. Parents find other parents who know first-hand the sucker punch to the gut of losing a child and the crazy-making grief that ensues.
One week, at Kathy's local group in her hometown, five new people attended their first Compassionate Friends' meeting. That week, each person had lost a child to suicide. It was an emotionally intense meeting. Kathy said that she and another mom connected. In the weeks that followed, the new mom reached out to Kathy for support and guidance. Kathy said that was a turning point for her – in saying yes to the other mom-in-need, Kathy decided to live. In that helping, Kathy found a reason to keep going.
We, human beings, are so much more than we realize. We are resilient and tender. Our feelings can run deep and wide. We can be vulnerable, strong, understanding and, above all, compassionate. There are times when we all need a little help from our friends.