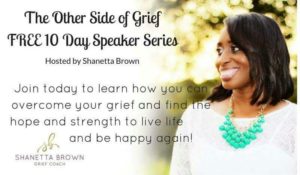 I recently had the pleasure in participating in The Other Side of Grief  of Suicide speaker series. This free speaker series runs Monday, November 14 – Friday, November 25. I will be featured on Tuesday, November 15.
Understanding, education and gaining new resources and coping strategies can help you work through your hero's journey of grief. Consider tuning in to gain some new perspectives and extra support.
Here is your link to access the free video series:
Our host, Shanetta Brown, explains more:
Have you lost a loved one to suicide?  Are you feeling overwhelmed or stuck and you don't know how to put the pieces of your life back together. Have you thought to yourself, Is the pain ever going to go away? 
We will show you how to find hope and happiness on the other side of grief.
Here are some tools that you will learn:  
Recognize grief can be used as a transformation process to reach a fulfilling and purpose-filled life! (Thrive instead of just survive!)
Move fully into your heart and body to process and release grief, mourn openly and grieve freely to reach a deep level of healing!
How to handle the holidays after a loss and still finding reason to celebrate.
Recognize ways to support your child through the grieving process.
Determine things you can say to your child to help them with the loss.
Recognize that you can maintain connection with deceased loved ones knowing that love lives on through them!
Build supportive and caring networks and give yourself permission to share feelings, emotions and memories easily!
Move from fear to faith that you can and will get through loss to find a new appreciation of life. (Be a victor over grief, not a victim!)
Re-write your grief story and reclaim your life!
Honor your loved one's legacy with love, remembering a life well lived!
PS  My interview will be featured on Tuesday, November 15.